Regular price
Sale price
₱380.00
Unit price
per
Sale
Sold out
What is NutriHydro (NH) Growth Nutrient?

NutriHydro Growth Nutrient is a part of NutrioHydro's Rapid Nutrient Intervention series. As the name says, it rapidly delivers nutrients to crops.
NH Growth Nutrient is a growth additive on top of existing plant nutrients for hydroponics, soil-grown, and foliar use. The use of this product increases the potential maximum growth of your lettuce and leafy crops.

How to Use NH Growth Nutrient?

There are 3 ways to use NH Growth Additive. First, as foliar. Dilute 1 ml to every 1.5 liters of water. Mist lettuces or leafy green crops once, every day or two.
Second, as an additive to existing nutrient solution of hydroponic systems. 1 mL to every 1.5 liters of existing solution.

In hydroponics, for best results, use as foliar and as an additive to existing nutrient tank.

Third, an additive to water plants on soil 1 mL to every 1.5 liters of water every two days.

When to use NH Growth Nutrient?

NH Growth Nutrient is used at the growth stage. Growth stage is defined as that point in time when lettuces and leafy greens start to really take off in growth. This is usually around 10 to 15 days from seed sprout.


--

What is the Difference between NutriHydro Lettuce Solution A and NutriHydro Growth Nutrient?

Both are similar but not exactly the same. While they both read the same NPK, NH Growth Nutrient is at the upper limit of nutrient ratios. There is more nutrient in NH Growth Nutrient than in NH Lettuce Solution A. Moreover, NH Growth Nutrient contains micronutrients which NH Lettuce Solution A does not have.
Additionally, NH Solution A is not available for individual bottle purchase while NH Growth Nutrient can only purchased individually.

Can I use NH Growth Nutrient at Hardening Stage?

Hardening is when seedlings are introduced to nutrient solution. Do not use NH Growth Nutrient at hardening stage because hardening stage is when seedlings concentrate its energy growing roots.

What is the Difference between NutriHydro's Iron Chelate and NutriHydro's Growth Nutrient?

Huge difference.

Nutrihydro Iron Chelate is used to treat iron deficiencies in crops. When used regularly, NH Iron Chelate direct nutrients at the stem causing increase in girth. When stems grow thicker, the roots follow, and so do the foliage. Lettuces and leafy greens grown with NH Iron Chelate are relatively thicker when measured with a caliper compared to crops grown without NH Iron Chelate.

NutriHydro Growth Nutrient is used as an additive to grow foliage. It is driven by nitrogen to push for growth and also uses a well-balanced composition of potassium, and a complete host of micronutrients for the overall complete health of crops.

Can I use NH Growth Nutrient with other Brands of Nutrients for Hydroponics?

Yes, you absolutely can and NH Growth Nutrient will work wonders. However, we strongly advise growers to ensure that steps are taken to measure the condition of the final solution. The term final solution is defined as water that
View full details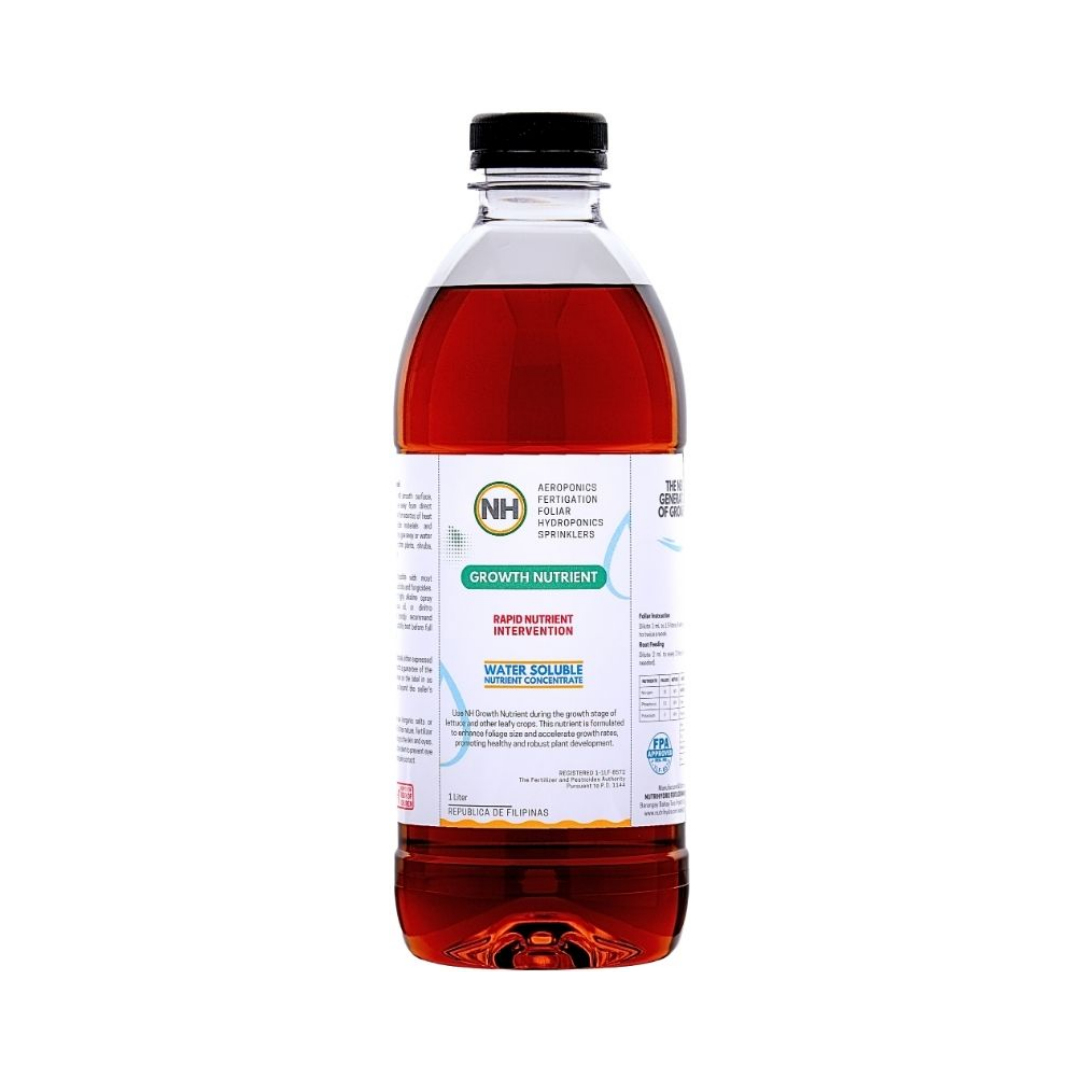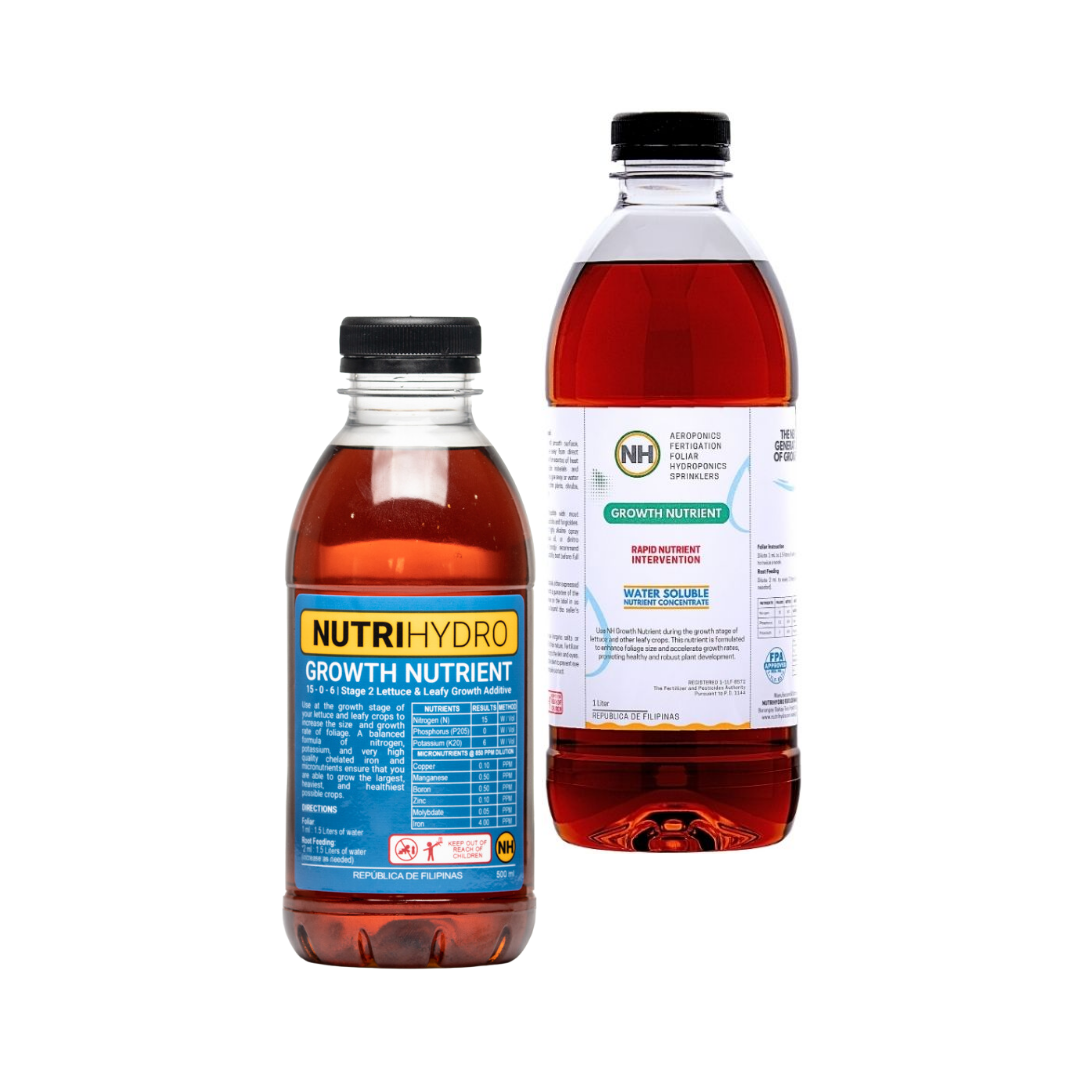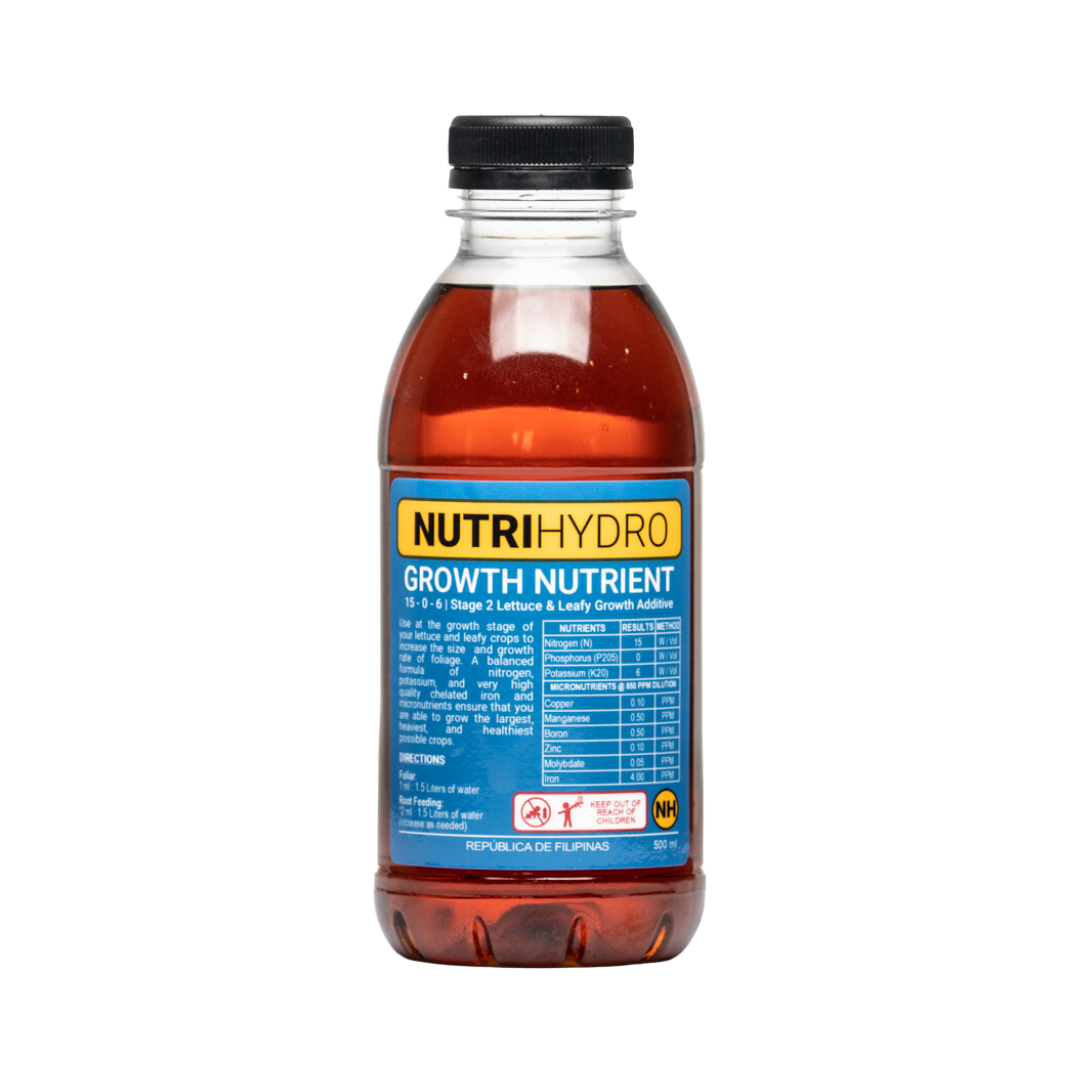 Commonly Asked Questions
What are available payment methods?

✅ Credit/Debit Card

✅ Bank Deposit

✅ GCash

✅ GrabPay
When will I receive my order?

We usually send orders for shipping in 1-2 days and delivered within the same day in Metro Manila. Shipping time may vary for provincial orders.
This is a gift. Can my order be shipped to someone else?

Yes, absolutely! Just enter the recipient's delivery address when you checkout.
Still have questions?

You can call or text us at 0908 174 7255
What Our Customers Are Saying
(⭐⭐⭐⭐⭐) - kiangel3636, Siquijor

Thank you so much for these items. I like them so much! Kudos to the seller who is very accommodating and sends actual pics... Will definitely order again.

(⭐⭐⭐⭐⭐) - Ma. Encarnacion, Santa Rosa City

Air dried well Package is well packed. Walang mushy leaves ang succulents. Normal na may dry leaves. Healthy plants ang dumating. Thank you po PCPH

(⭐⭐⭐⭐⭐) - pet.syling, Taguig City

Effective fungicide. Saved my selloum from dying a few months back. Dami fungi when I checked the roots. Nag recover plant after I used this. Reorder na ito 👍🏻