Regular price
₱750.00
Sale price
₱580.00
Unit price
per
Sale
Sold out
🌵🌿 Calling All Cactus and Succulent Lovers! 🌵🌿

Get ready to transform your cactus and succulent care with our exclusive offer - Buy 2 Basic Soil Mix for Cactus and Succulents 5kg bags, and we'll gift you 1 FREE Basic Soil Mix 1kg bag! Elevate your gardening game with the perfect soil blend designed to nurture your beloved plants and watch them thrive like never before.

🌵 Why Our Basic Soil Mix is Perfect for Cactus and Succulents 🌵

🌿 Optimal Drainage: Cactus and succulents require well-draining soil to prevent overwatering and root rot. Our Basic Soil Mix provides excellent drainage, ensuring your plants' roots stay healthy and happy.

🌿 Enhanced Aeration: Proper airflow is essential for cacti and succulents to thrive. Our soil mix promotes optimal aeration, allowing the roots to breathe and grow strong.

🌿 Nutrient-Rich Formula: Packed with essential nutrients, our Basic Soil Mix provides the perfect balance for cacti and succulents, supporting their growth, resilience, and vibrant colors.

🌵 Unleash the Full Potential of Your Plants 🌵

Imagine your cacti and succulents flourishing like never before - plump, vibrant, and full of life. With our Basic Soil Mix, you can expect:

🌿 Healthier Growth: Witness your plants grow stronger and healthier with each passing day, as they receive the ideal balance of nutrients.

🌿 Lush Foliage: Experience the joy of lush, vibrant foliage that will turn your cacti and succulents into stunning centerpieces.

🌿 Easier Maintenance: Our soil mix makes watering and caring for your plants a breeze, taking the guesswork out of plant care.
View full details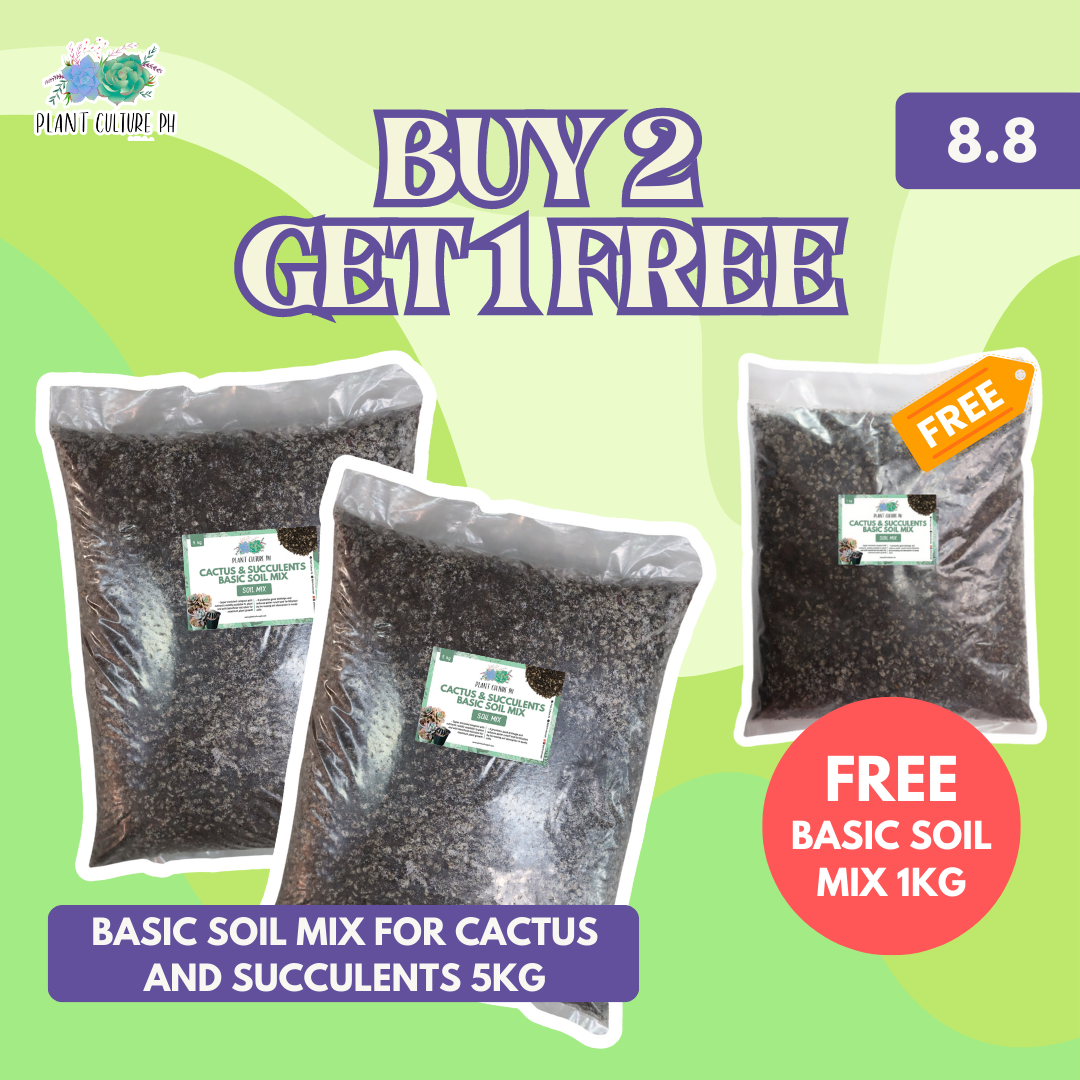 Commonly Asked Questions
What are available payment methods?

✅ Credit/Debit Card

✅ Bank Deposit

✅ GCash

✅ GrabPay
When will I receive my order?

We usually send orders for shipping in 1-2 days and delivered within the same day in Metro Manila. Shipping time may vary for provincial orders.
This is a gift. Can my order be shipped to someone else?

Yes, absolutely! Just enter the recipient's delivery address when you checkout.
Still have questions?

You can call or text us at 0908 174 7255
What Our Customers Are Saying
(⭐⭐⭐⭐⭐) - kiangel3636, Siquijor

Thank you so much for these items. I like them so much! Kudos to the seller who is very accommodating and sends actual pics... Will definitely order again.

(⭐⭐⭐⭐⭐) - Ma. Encarnacion, Santa Rosa City

Air dried well Package is well packed. Walang mushy leaves ang succulents. Normal na may dry leaves. Healthy plants ang dumating. Thank you po PCPH

(⭐⭐⭐⭐⭐) - pet.syling, Taguig City

Effective fungicide. Saved my selloum from dying a few months back. Dami fungi when I checked the roots. Nag recover plant after I used this. Reorder na ito 👍🏻