Regular price
₱537.00
Sale price
₱500.00
Unit price
per
Sale
Sold out
🌵🌱 Attention Cactus and Succulent Lovers! 🌱🌵

Unearth the ultimate offer for your beloved plants! Purchase 2 bags of our premium Cultured Soil for Cactus and Succulents 5kg, and we'll reward you with 1 FREE Osmocote 14-14-14 40g! Elevate your plant care routine with the perfect combination of nourishment and long-lasting feeding.

🌵 Why Choose Our Cultured Soil for Cactus and Succulents? 🌵

🍃 Tailored Nutrition: Our Cultured Soil is thoughtfully crafted to cater to the specific needs of cacti and succulents. It provides the ideal blend of nutrients, promoting healthy growth and vibrant colors.

🍃 Excellent Drainage: Cactus and succulents thrive in well-draining soil, and that's precisely what our Cultured Soil offers. Say goodbye to soggy roots and hello to thriving plants.

🍃 Premium Quality: Our soil mix is meticulously sourced and processed to ensure the highest quality. It's free from harmful chemicals, so you can trust it to provide a safe and nurturing environment for your plants.

🌱 What Makes Osmocote 14-14-14 40g Special? 🌱

🍃 Time-Released Nutrition: Osmocote is a renowned slow-release fertilizer that provides your plants with a continuous supply of nutrients for up to 4 months. Say goodbye to frequent fertilizing and let Osmocote do the work for you!

🍃 Balanced Formula: Osmocote 14-14-14 offers a well-balanced blend of essential nutrients, ensuring your cacti and succulents receive the right nourishment for strong roots, lush foliage, and stunning blooms.

🍃 Easy Application: With the convenient 40g size, Osmocote is effortless to apply. Simply sprinkle it on the soil, and let it work its magic.

🌵 Elevate Your Plant Care 🌵

Imagine your cacti and succulents thriving with vibrant colors, lush foliage, and radiant health. With our Cultured Soil and Osmocote combo, you can:

🍃 Boost Growth: Watch your plants flourish with the perfect combination of premium soil and slow-release nutrients.

🍃 Simplify Maintenance: Save time and effort with Osmocote's extended feeding, reducing the need for frequent fertilizing.

🍃 Enhance Resilience: Provide your plants with the best care possible, allowing them to withstand stressors and challenges.
View full details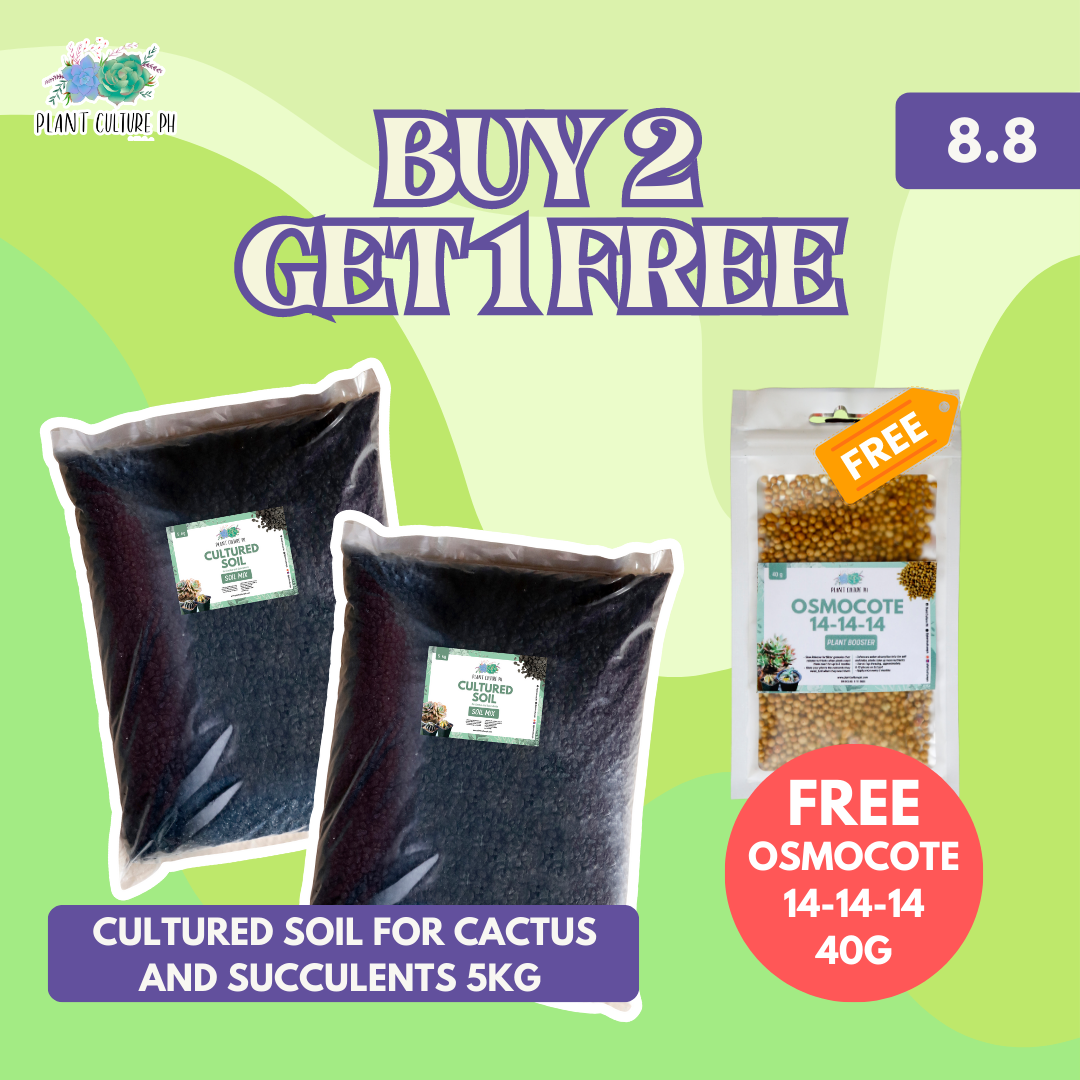 Commonly Asked Questions
What are available payment methods?

✅ Credit/Debit Card

✅ Bank Deposit

✅ GCash

✅ GrabPay
When will I receive my order?

We usually send orders for shipping in 1-2 days and delivered within the same day in Metro Manila. Shipping time may vary for provincial orders.
This is a gift. Can my order be shipped to someone else?

Yes, absolutely! Just enter the recipient's delivery address when you checkout.
Still have questions?

You can call or text us at 0908 174 7255
What Our Customers Are Saying
(⭐⭐⭐⭐⭐) - kiangel3636, Siquijor

Thank you so much for these items. I like them so much! Kudos to the seller who is very accommodating and sends actual pics... Will definitely order again.

(⭐⭐⭐⭐⭐) - Ma. Encarnacion, Santa Rosa City

Air dried well Package is well packed. Walang mushy leaves ang succulents. Normal na may dry leaves. Healthy plants ang dumating. Thank you po PCPH

(⭐⭐⭐⭐⭐) - pet.syling, Taguig City

Effective fungicide. Saved my selloum from dying a few months back. Dami fungi when I checked the roots. Nag recover plant after I used this. Reorder na ito 👍🏻